Electrical Troubleshooting - Get to the Root of the Problem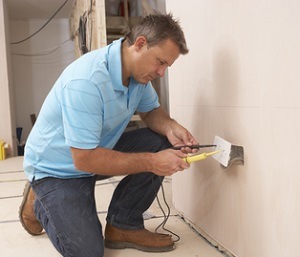 Any kind of problems that you encounter with your electrical system can be very frustrating. You and your family use your electrical system every day for any number of things, so when the system has any problems, it can be a major disruption in your life. On top of that, the electrical problems can also be incredibly dangerous. You need any electrical repairs to be performed promptly and professionally. But without proper electrical troubleshooting services, it can be hard to know what repairs actually need to be performed - especially if you have no idea what's causing your electrical problems in the first place.
At Twinson Electric, our electricians are expertly trained and experienced. During our electrical troubleshooting services, we'll be able to pinpoint the precise problems that your electrical system is experiencing so that we can provide the most thorough and accurate repairs possible. We'll troubleshoot your electrical system to guarantee that we're able to repair the root of the problems.
If you're experiencing problems with any part of your electrical system, call our electricians to have troubleshooting and repair services performed as soon as possible.
Common Electrical Problems
Common problems that homeowners encounter with their electrical systems include:
Dimming lights, or lights behaving strangely.
Appliances behaving abnormally or malfunctioning sporadically.
Outlets that are unreliable.
Seemingly random power glitches.
Breakers that trip at random.
As common as these problems are, it's still difficult to determine what's causing them. Even professional electricians may not be able to find the root cause of the problems, and they may only treat the most apparent symptoms. That will mean that your electrical system may not be safe to use, and that the same problems will continue to occur.
Our Ossining electricians will be able to find the root causes of any electrical issues you have with your electrical system and provide high quality repairs.
Electrical Troubleshooting Services Promote Safety in Ossining
As soon as you notice problems with your electrical system, you should call an electrician for troubleshooting and repair services. Problems with your electrical system could easily lead to a house fire—in fact, the Nation Fire Protection Association names faulty wiring as the leading cause of house fires in the United States. Our troubleshooting services won't just get rid of the inconvenience of electrical problems, but we'll also ensure that your home is always as safe as possible.
When our professionals are troubleshooting your electrical system, we'll always:
Look for overloaded circuitry
Find potential shock risks or fire hazards
Take care of any defective electrical work or faulty wiring
Find any parts of the electrical system that lack grounding or bonding
If you want to know what's causing your electrical problems, contact our electricians for troubleshooting services by calling 914-762-4342 or completing our online request form.
Recent Articles
Why Electrical Repairs Are Never a DIY Project - DIY projects can be very satisfying. They improve your home while saving you money, they're fun, and they can even teach you a few things. However, there are some things that should always be left to a professional. Electrical repairs are at the top of that list. Electrical systems and wiring are very difficult to work with. The systems are extremely complex, and on top of that, they're incredibly dangerous. It's very important that you … Read More


Five Ways to Lower Your Electricity Costs - Keeping your utility costs low is one of your biggest priorities as a homeowner. Sometimes, of course, you can't avoid spending more on electricity, especially if you use electricity to heat or cool your home. However, there are some ways that you can make sure your electricity costs are as low as possible. Without realizing it, you might be using more electricity than you need to be. You don't necessarily need to monitor your meter all day to keep track of your electrical usage, though … Read More