Schedule an Electrical Safety Inspection Today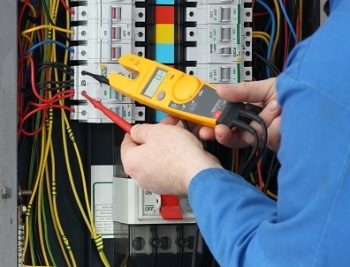 At Twinson Electric, we know that any electrical problems are always an inconvenience for you and your family, but they can also be much more serious than that. Any problems with your electrical system could potentially pose serious threats to your safety. If any part of your electrical system is in bad enough condition, it could cause significant damage to your property, or result in serious injuries.
Homeowners often neglect to have electrical safety inspections performed in the Ossining area, mostly because they haven't noticed any problems with their electrical system. However, there could be serious problems that go completely unnoticed and untreated before they become major safety concerns if you don't have an inspection performed regular. Our electricians will find any problems with your home's electrical system and take care of them before they become serious issues. You can depend on our company for all the residential electrical services you need.
Frequency of Electrical Safety Inspections
If you live in New York we recommend that you have a professional electrician perform an electrical safety inspection:
Once every ten years for an owner-occupied home
Once every five years for a renter-occupied home
Once each year for any home with a swimming pool
You should also have the electrical system inspected any time a property is being prepared for sale, rent, or purchase.
Benefits of Regular Safety Inspections
Making sure that you have a safety inspection regularly will guarantee that the system is ready to be used as consistently as it will be. The inspection will:
Reveal whether any of your electrical circuits or equipment are overloaded
Find any potential shock risks and fire hazards
Identify any defective electrical work
Highlight any lack of grounding or bonding
Our electrical safety inspection will also include tests of your wiring and any of your electrical equipment to make sure that they are all safe for use.
Our Professional Electricians and Inspection Specialists
Your electrical system should only ever be inspected by a licensed, professional electrician. Finding all the safety risks present can only be done by a professional, and it takes a professional to know the codes and standards that your system needs to meet. Our professional Ossining electricians can make sure that your wiring system, sockets, and outlets are all in great condition, and check for any wear-and-tear, damage, or deterioration.
We'll give you a thorough report of the condition of your electrical system, detailing any damage, deterioration, defects, or dangerous conditions that we find. If we find anything that is dangerous—or potentially dangerous—we'll discuss the problems with you and suggest the best ways to move forward with repairs. We'll make sure that your home is as safe as possible before our job is complete.
To schedule an electrical safety inspection, please call Twinson Electric at 914-762-4342 or complete our online request form.
Recent Articles
Why Electrical Repairs Are Never a DIY Project - DIY projects can be very satisfying. They improve your home while saving you money, they're fun, and they can even teach you a few things. However, there are some things that should always be left to a professional. Electrical repairs are at the top of that list. Electrical systems and wiring are very difficult to work with. The systems are extremely complex, and on top of that, they're incredibly dangerous. It's very important that you … Read More


Five Ways to Lower Your Electricity Costs - Keeping your utility costs low is one of your biggest priorities as a homeowner. Sometimes, of course, you can't avoid spending more on electricity, especially if you use electricity to heat or cool your home. However, there are some ways that you can make sure your electricity costs are as low as possible. Without realizing it, you might be using more electricity than you need to be. You don't necessarily need to monitor your meter all day to keep track of your electrical usage, though … Read More