Knob and Tube Wiring Replacement Services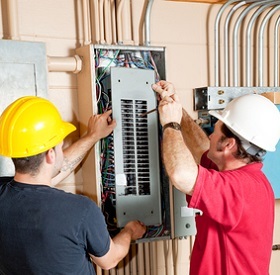 Knob and tube wiring was one of the first standardized forms of wiring for buildings. It was very widely used for a very long time, and while it can be safe, it's now generally not recommended for use because of how quickly it can degrade.
If your home still has knob & tube wiring, you should most likely have it replaced as soon as possible. At Twinson Electric, our electricians can inspect your electrical system and help you determine whether your home's wiring needs to completely replaced, partially replaced, or repaired.
To learn more about the electrical services we offer related to knob and tube wiring, please give our electricians a call today. We'll gladly go over your options for repairing or rewiring your home's electrical system.
What Is Knob and Tube Wiring?
Knob and tube wiring is actually superior to modern wiring materials in some ways as long as it is correctly installed. Part of what makes it unsafe is that is doesn't stay fully intact over long periods of time, so if your wiring was installed nearly a century ago, there's a very good chance it has some very serious problems. While your knob and tube wiring was likely more than acceptable when it was installed, it can cause some very serious issues if it isn't replaced.
Here are some of the safer things about knob and tube wiring:
Wires were suspended with porcelain knobs, which can help to dissipate heat.
Porcelain tubes added additional protection where it passed through wood.
Unless they were near a connection to a box or fixture, hot and neutral wire were usually kept around three inches apart. Where hot and neutral wires connected, they had an additional protective woven sleeve.
There are two main reasons that knob and tube wiring is not considered a viable option for today's homes:
Knob and tube wiring does not incorporate a ground conductor, which can be extremely dangerous.
Switches for knob and tube wiring were often installed on the neutral wire. That means that they would turn off a circuit but would not turn off the electrical current, which can lead to house fires.
Replace Your Knob & Tube Wiring - Even If It's Working "Fine"
Even if your knob and tube wiring seems to be doing its job just fine, there's no way of knowing when a serious problems will develop. One of the main reasons knob and tube wiring needs to be replaced is that after being in your home for several years, different people—and not all of them professional electricians—have most likely made improper, unsafe alterations to the wiring over the years. Our Ossining electricians can help you ensure that your wiring and your home's electrical system are as safe and functional as possible.
If you are looking for a reliable electrician that replaces knob and tube wiring, please call 914-762-4342 or complete our online request form.
Recent Articles
Why Electrical Repairs Are Never a DIY Project - DIY projects can be very satisfying. They improve your home while saving you money, they're fun, and they can even teach you a few things. However, there are some things that should always be left to a professional. Electrical repairs are at the top of that list. Electrical systems and wiring are very difficult to work with. The systems are extremely complex, and on top of that, they're incredibly dangerous. It's very important that you … Read More


Practicing Electrical Safety Before, During, & After Storms - When a storm or natural disaster hits, we typically think of the damage wind and rain will do-- flooding, downed trees, missing shingles, and much more. There are also a myriad of electrical problems that can be caused by storms, with effects that last long after the storm passes. Thankfully, your professional electricians at Twinson Electric have a few tips on staying safe before, during, and after a storm and making sure your electrical systems are intact. … … Read More