Electrical Wiring Repairs, Replacement & Installation Services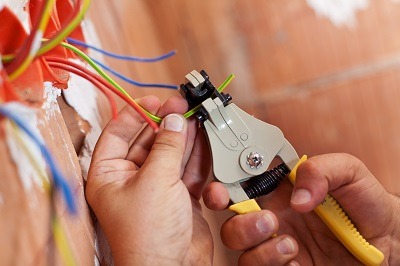 Wiring is the most important part of any electrical system, and any services that you need for your home's wiring need to be performed by a qualified professional you can trust. Your electrical wiring system is extremely complex and difficult to work with, and if you don't have proper training experience, it can even be dangerous.
Every part of your electrical system is dependent on the state of its wiring. Your outlets, light switches, and appliances rely on your wiring, so it's important to keep the wiring in the best condition possible.
At Twinson Electric, our electricians are all licensed professionals with extensive training and experience providing a variety of electrical services, so we're always able to help you keep your home's electrical wiring in excellent shape. We can confidently guarantee that you'll receive high quality workmanship, and we'll do whatever it takes to make sure that your wiring is in compliance with all codes.
Expert Electrical Wiring Repairs & Installation
Most of the actual electrical wires are inside your home's walls and ceilings, which is one reason your wiring system is so difficult to work with. Even if you can access the wiring, however, it's still very dangerous to attempt any wiring work without professional training and experience. Wiring systems should only every be worked on by licensed, qualified electricians.
According to the National Fire Protection Association, faulty electrical wiring is a leading cause of house fires in the US. Even if you aren't injured while trying to fix your own wiring, any small mistakes could mean that there are huge hazards waiting in your home, so always can a professional electrician for any wiring repairs.
Rewiring Services
If you live an older home in which the wiring has not been replaced in recent years, there's a strong chance that you need to have rewiring services performed. Even homes built as recently as the 1980s may have electrical wiring that is inadequate, unsafe, or outdated.
If your home's wiring is out of date, your electrical will not be able to handle the amount of electricity that modern homes use, which means that the wiring will deteriorate.problems. You'll start to notice some irritating problems first, like blown fuses, then you'll begin to encounter more serious and dangerous problems.
Our professional Ossining electricians can help you decide whether your home's wiring should be repaired or replaced, and we'll make sure that it's kept in the best condition possible.
If you are looking for a reliable electrician that repairs, replaces and installs electrical wiring, please call 914-762-4342 or complete our online request form.
Recent Articles
Why Electrical Repairs Are Never a DIY Project - DIY projects can be very satisfying. They improve your home while saving you money, they're fun, and they can even teach you a few things. However, there are some things that should always be left to a professional. Electrical repairs are at the top of that list. Electrical systems and wiring are very difficult to work with. The systems are extremely complex, and on top of that, they're incredibly dangerous. It's very important that you … Read More


Five Ways to Lower Your Electricity Costs - Keeping your utility costs low is one of your biggest priorities as a homeowner. Sometimes, of course, you can't avoid spending more on electricity, especially if you use electricity to heat or cool your home. However, there are some ways that you can make sure your electricity costs are as low as possible. Without realizing it, you might be using more electricity than you need to be. You don't necessarily need to monitor your meter all day to keep track of your electrical usage, though … Read More