Ceiling Fan Repairs - Fixing Wobbly, Noisy Fans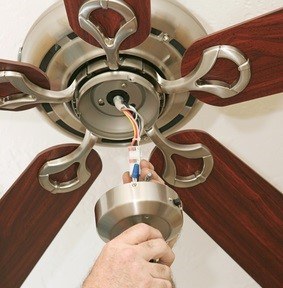 Problems with a ceiling fan are often caused by problems with the wiring of either the fan's or electrical system's wiring. Working on any kind of wiring can be exceptionally difficult, and without training and experience, it can also be very dangerous. It's very important to hire a licensed electrician for ceiling fan repairs in Ossining, and the electricians at Twinson Electric can help you solve any problems with your ceiling fan promptly and professionally.
Our experts strive to provide every one of our clients with high quality electrical repairs and excellent customer service. All of our electricians are licensed, trained, and qualified, so we can always guarantee that you'll be receiving high quality workmanship from a professional you can trust. We'll be able to get your ceiling fan into excellent condition, and we'll guarantee your complete satisfaction with all of our work.
Troubleshooting Problems with Ceiling Fans
Any number of different problems can occur with your ceiling fan. Our expert electricians will be able to pinpoint the precise problems your ceiling fan has in order to provide the most thorough and accurate ceiling fan repairs. If you've noticed any problems with your ceiling fan's functionality, contact our electricians, and we'll be able to accurately troubleshoot the issues and provide the best possible electrical repairs. Our professionals will help you determine exactly what the problem is and where it's stemming from. We'll pinpoint the problems, then we'll take care of any necessary repairs.
Benefits of Ceiling Fans
If you don't already have ceiling fans installed in your home, it can be worth considering whether they would benefit your home. Ceiling fans can make your home more comfortable and attractive, and they can also improve your home's energy efficiency. They help your air conditioner function more efficiently, which lowers the amount of energy the system uses to cool your home. They can also be used to enhance heating systems in the winter.
Our professional Ossining electricians can work with you to install a new ceiling fan and help you keep your home in great shape.
Ceiling Fan Replacement
If your ceiling fan needs to be replaced for functional, aesthetic, or any other reasons, our Ossining electricians can help. We'll be able to help you choose the perfect new ceiling new fans for your, and no matter how complicated the procedure is, we'll be able to handle the job from start to finish. We'll discuss all of your options with you before we begin any work, and we'll be able to solve any problems that arise with your electrical wiring during the installation or replacement process.
If you need a reliable electrician for ceiling fan repairs, please call 914-762-4342 or complete our online request form.
Recent Articles
Why Electrical Repairs Are Never a DIY Project - DIY projects can be very satisfying. They improve your home while saving you money, they're fun, and they can even teach you a few things. However, there are some things that should always be left to a professional. Electrical repairs are at the top of that list. Electrical systems and wiring are very difficult to work with. The systems are extremely complex, and on top of that, they're incredibly dangerous. It's very important that you … Read More


Five Ways to Lower Your Electricity Costs - Keeping your utility costs low is one of your biggest priorities as a homeowner. Sometimes, of course, you can't avoid spending more on electricity, especially if you use electricity to heat or cool your home. However, there are some ways that you can make sure your electricity costs are as low as possible. Without realizing it, you might be using more electricity than you need to be. You don't necessarily need to monitor your meter all day to keep track of your electrical usage, though … Read More