Electrical Panel Upgrades for Improved Service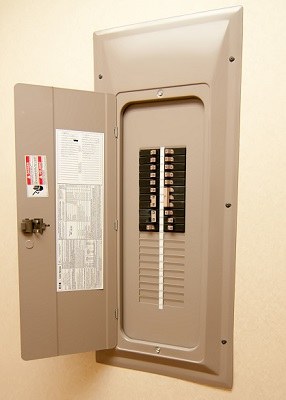 Your electrical system is one of the most important parts of your home, and the core of that system is its panel. Your electrical panel needs to be able to provide your home with all of the electricity that you use on a regular basis. If your electrical panel is not able to support your electrical system, you'll experience power outages, and you may create a very dangerous situation in your home. This is why many homeowners in New York opt for professional electrical panel upgrades.
At Twinson Electric, our electricians can help you determine whether your electrical panel is able to provide your home with the electricity that it needs. If you need to have your panel upgraded, we'll let you know, and we'll be able to complete every aspect of the job.
Give us a call today schedule your appointment for an upgrade to your electrical service, and we'll be looking forward to working with you.
What is An Electrical Panel?
Your main electrical panel is typically a large grey box that is located in your garage or basement and is filled with a number of switches, or "breakers". When the breakers trip, they cut off power to a section of your electrical system until they're switched back on. If your breakers trip repeatedly or frequently, it might mean that the panel is not equipped to deal with the amount of electricity that you're using in all or part of your home, which can be very unsafe.
If you ever notice that your breakers are tripping frequently, contact our Ossining electricians can inspect your panel and electrical system to determine whether it's safe for use.
How to Tell If Your Electrical Service Panel Needs to Be Upgraded
You Have Screw-In Style Fuses
Screw-in style fuse panels are very common in older homes, and when they were introduced, they were perfectly fine. Today's homes, however, use much more electricity than they used to, and screw-in style fuse boxes are simply no longer adequate. Most like, this type of panel needs to be completely replaced.
Your Breakers Trip Frequently
If your breakers trip frequently, lights in your home flicker, or your electrical system doesn't provide electricity to all of your appliances, the problems might often be solved with a panel upgrade or replacement.
Aside from causing irritating power outages, an outdated panel can also lead to smoke damage, or even to a house fire. You should also have your panel upgraded if you notice any of the following problems:
You use 60 amp or 100 amp electrical service.
Your home owner's insurance requires that you make an upgrade.
You use multiple extension cords.
Your panel box makes cracking sounds.
Electrical service conductors are overheating
You're renovating or adding to your home.
You add a sauna or a hot tub.
If you are looking for a reliable electrician that does electrical panel upgrades, please call 914-762-4342 or complete our online request form.
Recent Articles
Why Electrical Repairs Are Never a DIY Project - DIY projects can be very satisfying. They improve your home while saving you money, they're fun, and they can even teach you a few things. However, there are some things that should always be left to a professional. Electrical repairs are at the top of that list. Electrical systems and wiring are very difficult to work with. The systems are extremely complex, and on top of that, they're incredibly dangerous. It's very important that you … Read More


Five Ways to Lower Your Electricity Costs - Keeping your utility costs low is one of your biggest priorities as a homeowner. Sometimes, of course, you can't avoid spending more on electricity, especially if you use electricity to heat or cool your home. However, there are some ways that you can make sure your electricity costs are as low as possible. Without realizing it, you might be using more electricity than you need to be. You don't necessarily need to monitor your meter all day to keep track of your electrical usage, though … Read More