Aluminum Wiring Replacement Services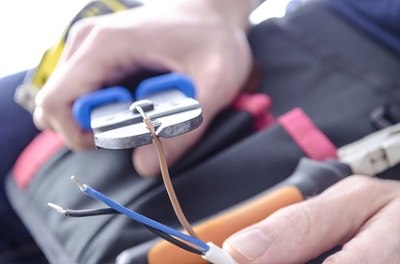 If your home has aluminum wiring, you should have it replaced with modern wiring materials, which are safer and more reliable. While aluminum wiring isn't necessarily dangerous, it certainly can be, and it's also very inefficient. If you do have this type of electrical wiring in your home, it will be difficult to find an insurance company who will write you a policy. Most likely, you need to have your home completely or partially rewired. For safety and efficiency purposes, it's better to go ahead with a full aluminum wiring replacement project.
If your home is wired with aluminum, contact the electricians at Twinson Electric to have your electrical system inspected. We'll be able to help you determine how much of your wiring you'll need to replace, and we'll be able to take care of every of the job.
Our experts can guarantee that your home's electrical system will be kept in great condition. Give us a call today to request a quote for replacing aluminum wiring in your home or to learn more about our electrical services.
What Makes Aluminum Wiring Unsafe?
During the 1960s and 70s, aluminum wiring very popular. However, by the late 70s, many homes were already beginning to transition to copper wiring. A number of the qualities of aluminum make it potentially unsafe for an electrical system:
Aluminum wiring oxidizes very easily. Because of that, it can develop a significant amount of rust within as little as one day. That rust can easily cause the receptacle to overheat.
Aluminum is softer and more malleable than copper wiring, which makes it more prone to damage.
Aluminum expands as it gets hotter. This is called "thermal expansion," and it means that the wiring can change shape at the terminal screws, which can cause it to come loose and/or disconnect.
If your home still has aluminum wiring, the safest option you have it to replace it. Our Ossining electricians can work with you to ensure that your home's electrical system is totally safe and functional.
Partial Aluminum Wiring Replacements
In most cases, it isn't necessary to replace all of your home's wiring, even if all of the wiring is aluminum. But even if you do only need to have parts of your wiring replaced, you should have it done as soon as possible. Our professional electricians look forward to helping you ensure that your home is as safe as possible.
If you are looking for a reliable electrician that specializes in aluminum wiring replacement, please call 914-762-4342 or complete our online request form.
Recent Articles
Why Electrical Repairs Are Never a DIY Project - DIY projects can be very satisfying. They improve your home while saving you money, they're fun, and they can even teach you a few things. However, there are some things that should always be left to a professional. Electrical repairs are at the top of that list. Electrical systems and wiring are very difficult to work with. The systems are extremely complex, and on top of that, they're incredibly dangerous. It's very important that you … Read More


Five Ways to Lower Your Electricity Costs - Keeping your utility costs low is one of your biggest priorities as a homeowner. Sometimes, of course, you can't avoid spending more on electricity, especially if you use electricity to heat or cool your home. However, there are some ways that you can make sure your electricity costs are as low as possible. Without realizing it, you might be using more electricity than you need to be. You don't necessarily need to monitor your meter all day to keep track of your electrical usage, though … Read More