Landscape Lighting Installation & Repair Services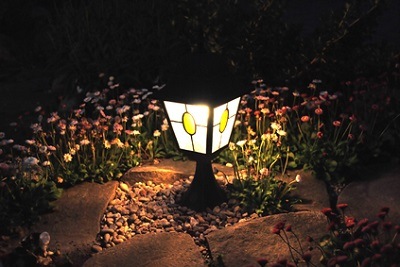 Installing landscape lighting in Ossining can help you increase your home's resale value, boost its curb appeal, and improve its security. At Twinson Electric, we can provide you with high quality landscape lighting design and installation services to help you keep your home's landscape as attractive as possible. Our Ossining electricians can ensure that your landscape lighting scheme is a perfect addition to your home, and we'll make sure that it's totally functional and efficient.
All of our electricians are trained professionals with extensive experience, so we'll be able to provide the highest quality landscape lighting services possible. We'll help you design a landscape lighting scheme that enhances the best parts of your home's exterior architecture and landscaping features. These lights can highlight architectural features, plants and trees, or any other part of your landscape design. We'll work with you directly to choose the lighting fixtures and design your new exterior lighting system, and we'll guarantee your satisfaction with all of our work.
Why Install Landscape Lighting?
Ambiance: Create the perfect atmosphere for entertaining outdoors with illuminated pools, decks, patios, and recreational sitting areas. Landscape lighting can help you create a great setting for any kind of gathering.
Beauty: Accentuate the architecture of your home while showcasing its artistry and charm. Allow your guests to experience the beauty of your fountains, flowers,trees, and shrubs. Create dramatic scenes that reveal the subtle contours, shapes and textures of your property.
Security: Landscape lighting can be an effect way to deter residential criminals. Lighting won't necessarily prevent crime, but statistics show that well-lit exteriors are less vulnerable to criminal intrusion. Motion tripped flood lights are a grate way to protect your home and save energy at the same time because the light only come on when you need them.
Safety: Landscape lighting accents pathways, stairs, and other potentially hazardous areas..
Balancing Form and Function for Your Landscape Lighting Design
Our Ossining electricians understand that there are two key factors that determine the success of a landscape lighting project: aesthetics and functionality.We'll be able to work with you to design a landscape lighting scheme that perfectly balances these two factors. We'll make sure that your landscape lighting looks great and that it's perfectly functional and efficient.
If you are looking for a reliable electrician that installs landscape lighting, please call 914-762-4342 or complete our online request form.
Recent Articles
Why Electrical Repairs Are Never a DIY Project - DIY projects can be very satisfying. They improve your home while saving you money, they're fun, and they can even teach you a few things. However, there are some things that should always be left to a professional. Electrical repairs are at the top of that list. Electrical systems and wiring are very difficult to work with. The systems are extremely complex, and on top of that, they're incredibly dangerous. It's very important that you … Read More


Five Ways to Lower Your Electricity Costs - Keeping your utility costs low is one of your biggest priorities as a homeowner. Sometimes, of course, you can't avoid spending more on electricity, especially if you use electricity to heat or cool your home. However, there are some ways that you can make sure your electricity costs are as low as possible. Without realizing it, you might be using more electricity than you need to be. You don't necessarily need to monitor your meter all day to keep track of your electrical usage, though … Read More