Equipping Your Home with GFCI Outlets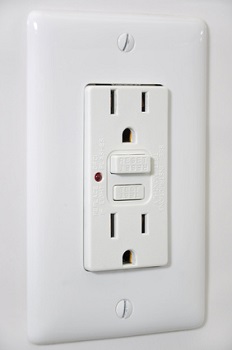 GFCI (ground fault circuit interrupter) outlets are a very important part of preventing electrical shocks and electrocution. They're often mandated by code to be installed in rooms like kitchens, garages, laundry rooms, bathrooms, and outdoor locations. These electrical outlets are used to disconnect circuits whenever there is an imbalance between a charged conductor and a neutral return conductor. GFCI outlets in Ossining need to be properly installed and maintained in order to function properly, and at Twinson Electric, our electricians can repair, replace, or upgrade your GFCI electrical outlets to ensure that your home's electrical system is as safe as possible.
All of our electricians are licensed, trained, and experienced professionals who will be bale to thoroughly inspect your electrical system and determine whether you need GFCI outlets or switches to be installed in any part of your home. If we find any parts of your home that need to have GFCI outlets installed, we'll be able to handle every aspect of that installation as well. We can also ensure you get the quality electrical repairs you need for all your other outlets, should it be necessary.
National Electric Codes and GFCI Outlets
The NEC (National Electric Code) includes both recommendations and requirements for GFCI outlets .During the 1970s, GFCI installation requirements were gradually added for 120-volt receptacles in areas that had a high risk for water contact, like bathrooms and garages. In the 1980s, requirements were added for kitchens and basements, as well as other things like boat houses, indoor pools, and commercial garages.
In the 1990s, GFCI outlet requirements were expanded to include:
Wet bars
Rooftops
Crawlspaces
Elevator rooms
Car tops
The modern NEC requires GFCI outlets in any rooms in which outlets may come into contact with water. There are some exceptions, and the codes vary depending on region. Our Ossining electricians have knowledge of all local codes, and we'll be able to make sure that your home has all of the GFCI outlets it requires.
Benefits of GFCI Outlets
Shock Prevention: GFCI outlets are designed to block any dangerous flow of electricity to a grounded object or person. GFCI outlets will protect people from electrical shocks and electrocution.
Fire Prevention: Ground-fault surges can easily cause electrical fires, and GFCI outlets are very effective and stopping this. GFCIs are one of the most important and effective fire prevention tools you can have installed in your home.
Appliance Damage Prevention: Large appliances that require significant amounts of energy can be seriously damaged by ground fault surged. GFCI outlets will prevent that damage from occurring and help you keep your Ossining home's appliances in great shape.
If you need a reliable electrician that installs GFCI outlets, please call 914-762-4342 or complete our online request form.
Recent Articles
Why Electrical Repairs Are Never a DIY Project - DIY projects can be very satisfying. They improve your home while saving you money, they're fun, and they can even teach you a few things. However, there are some things that should always be left to a professional. Electrical repairs are at the top of that list. Electrical systems and wiring are very difficult to work with. The systems are extremely complex, and on top of that, they're incredibly dangerous. It's very important that you … Read More


Five Ways to Lower Your Electricity Costs - Keeping your utility costs low is one of your biggest priorities as a homeowner. Sometimes, of course, you can't avoid spending more on electricity, especially if you use electricity to heat or cool your home. However, there are some ways that you can make sure your electricity costs are as low as possible. Without realizing it, you might be using more electricity than you need to be. You don't necessarily need to monitor your meter all day to keep track of your electrical usage, though … Read More