Pool Lighting Installation & Repairs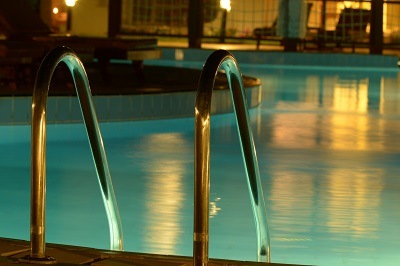 When you're installing pool lighting at your home, you need to know that the electrical wiring is professionally installed and completely safe. At Twinson Electric, our electricians have extensive experience working with pool lighting systems, and we'll be able to guarantee that the installation is thorough, accurate, and safe.
It's very easy for problems to arise when water and electricity are in the same vicinity, so it's extremely important that the wiring for your pool's lighting is totally up to code and professionally installed. You should always hire an electricians that is qualified, licensed, and experienced to perform any pool lighting job. Otherwise, you may not pass code inspections, and you could face serious injuries.
Contact our professionals to begin your pool lighting project, and we'll be looking forward to working with you.
Swimming Pool Electrical Wiring
Proper swimming pool electrical wiring installations can be completed in four general steps:
Secure an electrical permit
Wire a sub-panel at the equipment pad to power pool equipment
Bond the metal components of the pool
Pass electrical inspections
Our professionals will be able to complete each of these steps, and we'll also be able to handle all of the technical aspects of this job. We'll guarantee that all of our work will pass inspections and completely safe and in compliance with codes.
Electrical Panel Additions for Pool Lighting
Often, homeowners need to have their electrical systems modified in order to support the addition of a pool or pool lighting. If your home's electrical panel is already full, it may not be able to support the addition of the extra wiring needed for pool lighting. In that case, you have two options:
Install a sub-panel: his will provide more breaker space to accommodate the extra electrical need of your pool lighting. In order for this to be a viable option, however, your home's wiring will already need to be able to support the extra electrical output.
Contact your electric company to request a service upgrade. It can take around six weeks for this to be completed because it requires an installation by your electric service provider. Service upgrades will increase the amount of electricity which the company sends to your home, allowing you to add more electrical components.
Our Ossining will be able to work with you to determine the best steps to take for your pool lighting.
If you are looking for a reliable electrician that installs pool lighting, please call 914-762-4342 or complete our online request form.
Recent Articles
Why Electrical Repairs Are Never a DIY Project - DIY projects can be very satisfying. They improve your home while saving you money, they're fun, and they can even teach you a few things. However, there are some things that should always be left to a professional. Electrical repairs are at the top of that list. Electrical systems and wiring are very difficult to work with. The systems are extremely complex, and on top of that, they're incredibly dangerous. It's very important that you … Read More


Five Ways to Lower Your Electricity Costs - Keeping your utility costs low is one of your biggest priorities as a homeowner. Sometimes, of course, you can't avoid spending more on electricity, especially if you use electricity to heat or cool your home. However, there are some ways that you can make sure your electricity costs are as low as possible. Without realizing it, you might be using more electricity than you need to be. You don't necessarily need to monitor your meter all day to keep track of your electrical usage, though … Read More