LED Lighting Upgrades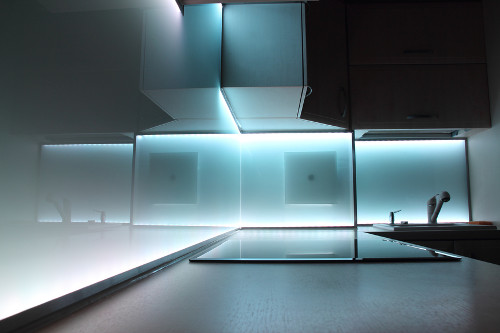 The outside of your home is just as important to illuminate as the inside is. And the types of light you choose for the interior and exterior of your home will affect security and energy efficiency.
The existing light fixtures in your home can be converted to LED. This is called an LED retrofit in electrical service industry terms, or more commonly an LED lighting Upgrade.
Perhaps you have been meaning to add some additional lights to certain areas of your home or maybe you're considering upgrading to LED lights. Either way, you'll enjoy energy efficient lights that produce the perfect amount of illumination for every application.
If you're not sure what kind you need or how to add the new light fixtures, call Twinson Electric for an LED Lighting Upgrade. Our professional Putnam County electricians can help you out.
Outdoor & Landscape LED Lighting Upgrades
If you plan to upgrade to LED landscape lighting, you will find out just how many options in outdoor lights there are to choose from. For outdoor lighting schemes, it's best to choose a variety of fixtures and use them in combination to provide illumination in key areas. We recommend a combination of lighting types for your landscape.
LED lights produce as much illumination as standard fixtures and bulbs but work much more efficiently. You may also be interested in LED smart lighting options. We these, you have wireless technology built-in that allows you to control them from anywhere. You can choose from the same lighting types you've always had including:
Spot Lights
Flood Lights
Porch Lights
Motion Sensor Lights
Dusk to Dawn Lights
Pole Lights
Post Lanterns
Deck or Step Lights
Recessed Lights
Hanging Lights
Security Lights
Walkway Lights
Indoor LED Lighting Upgrades
Even if you only upgrade your indoor light fixtures to LED, you should see significant savings on your energy bill of 30-70%. If you don't want to retrofit all the indoor lights, we can change out the fixtures in key areas like the kitchen, bathrooms, family room, or dining room.
Whether it is indoor or outdoor LED lighting upgrades, Twinson Electric is ready to build an ongoing service relationship with you. We have more than 43 years of industry experience, so we can we can handle all your electrical service needs. Our experienced electricians are fully licensed, insured, and bonded. We would love to come out and discuss fixtures you want to replace with new LED lights.
If you are looking for a New York electrician for LED Lighting Upgrades, please call Twinson Electric at 914-762-4342 or complete our online request form.
Recent Articles
Why Electrical Repairs Are Never a DIY Project - DIY projects can be very satisfying. They improve your home while saving you money, they're fun, and they can even teach you a few things. However, there are some things that should always be left to a professional. Electrical repairs are at the top of that list. Electrical systems and wiring are very difficult to work with. The systems are extremely complex, and on top of that, they're incredibly dangerous. It's very important that you … Read More


Five Ways to Lower Your Electricity Costs - Keeping your utility costs low is one of your biggest priorities as a homeowner. Sometimes, of course, you can't avoid spending more on electricity, especially if you use electricity to heat or cool your home. However, there are some ways that you can make sure your electricity costs are as low as possible. Without realizing it, you might be using more electricity than you need to be. You don't necessarily need to monitor your meter all day to keep track of your electrical usage, though … Read More