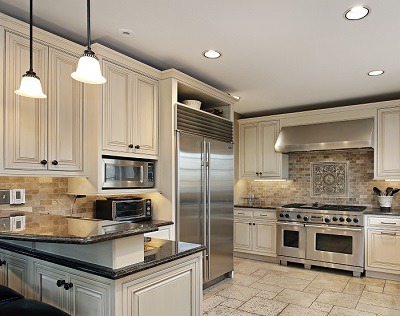 Exterior & Interior Lighting Installation Services
Changing the interior design of your home is one of the best and most effective ways to alter its atmosphere. Whether you're interested in conserving energy, creating a new interior design style, or implementing a new lighting control system, our electricians will be able to help you achieve those goals with our expert lighting installation services. Twinson Electric is dedicated to providing high quality electrical services to every one of our clients, and we'll be able to help you install the perfect interior or exterior lighting system for your home.
Our professionals will work with you directly from the very first stages of the project through to its completion. We'll help you determine the precise goals that you have for the project, then we'll help you integrate those ideas into a lighting design that's attractive and functional. We'll be available to you throughout the project to answer any questions you have and help you solve any problems that occur.
Our Services for Lighting Installation
Our professional electricians in Ossining can help you with several different kinds of lighting installations, including:
Pendant Lights
Ceiling Lights
Track Lighting
Recessed Lighting
Landscape Lighting
Security Lighting
Pool Lighting
Ceiling Fans
Other Specialty Lighting Fixtures
Our Ossining electricians can take care of every aspect of your lighting installation job from start to finish no matter what kind of lighting fixtures you're having installed. We'll make sure that your new lighting design is a perfect addition to and enhancement of your home's current interior design, and we won't consider the job complete until you're completely satisfied with the results.
Electrical Wiring for Lighting Fixtures
Installing new lighting fixtures often requires work with your home's electrical wiring. For that reason, it's very important that you always hire a qualified professional for the job. Electrical wiring is one of the most dangerous parts of your home to work with, and without professional training and experience, you can injure yourself very easily. Even if you do get through the process without hurting yourself or someone else, there's a very strong chance that any small mistakes you've made could have dire consequences, and they may even cause an electrical fire.
If you're planning to install new lighting fixtures or a new lighting system at your home, contact our Ossining electricians. We'll be able to guarantee that the job is completed safely and professionally.
If you are looking for a reliable electrician that offers interior and exterior lighting installation services, please call 914-762-4342 or complete our online request form.
Recent Articles
Why Electrical Repairs Are Never a DIY Project - DIY projects can be very satisfying. They improve your home while saving you money, they're fun, and they can even teach you a few things. However, there are some things that should always be left to a professional. Electrical repairs are at the top of that list. Electrical systems and wiring are very difficult to work with. The systems are extremely complex, and on top of that, they're incredibly dangerous. It's very important that you … Read More


Five Ways to Lower Your Electricity Costs - Keeping your utility costs low is one of your biggest priorities as a homeowner. Sometimes, of course, you can't avoid spending more on electricity, especially if you use electricity to heat or cool your home. However, there are some ways that you can make sure your electricity costs are as low as possible. Without realizing it, you might be using more electricity than you need to be. You don't necessarily need to monitor your meter all day to keep track of your electrical usage, though … Read More