Providing Quality Electrical Outlet Repairs
In Ossining, NY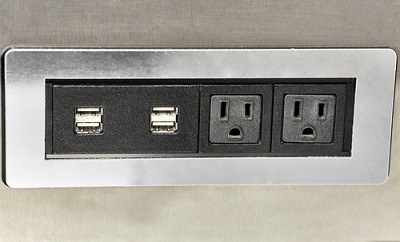 Your home's electrical system is an extremely important part of your daily life. It's so essential, in fact, that it's easy to take your electrical system for granted. Most people don't give much thought at all to their electrical outlets, but your home's outlets need to be kept in excellent condition or they may fall into disrepair, which can be very dangerous. Any problems with your home's electrical outlets can cause serious injuries, property damage, or even house fires. So it's important to hire a professional Ossining, NY electrician for electrical outlet repairs in Ossigning.
At Twinson Electric, we always strive to provide our clients with the highest quality electrical repairs possible at every job that we perform. Our Ossining electricians are all licensed, trained, and experienced professionals who will be able to guarantee high quality workmanship and professional customer no matter what kind of job you need us to perform. If you find any problems with your home's electrical outlets, contact our professionals for electrical repairs today. We'll be looking forward to assisting you.
Importance of Electrical Outlet Repairs
Electrical outlets are used very frequently, so they can experience a great deal of wear and tear in a short period of time. If an outlet is loose, you might notice that any appliances plugged into it will flicker or receive power only intermittently. It's very important that you have these problems repaired immediately. You should also probably replace any two-pronged outlets in your home, and you should make sure that you have GFCI or AFCI outlets installed where they are necessary.
Our electricians will be able to work with you to ensure that all of the outlets in your Ossining home are totally safe and functional. We can help you determine whether your outlets need to repaired or replaced, and we'll be able to ensure that your entire electrical system is a safe as possible.
GFCI and AFCI Outlets
GFCIs (ground fault circuit interrupters) and AFCIs (arc fault circuit interrupters) are two types of outlets that can keep your home's electrical system as safe as possible.
GFCI outlets help prevent you or anyone else in your home from being shocked or electrocuted by any electrical equipment. They work by monitoring the difference between hot and neutral wires, and they will instantly break the circuit if an imbalance is detected. These devices can prevent serious injuries in the event of a malfunction with any piece of electrical equipment. They're often required in bathrooms and kitchens.
AFCI outlets protect your electrical system from arc faults, which occur when an electrical current veers off of its intended path. Arc faults can be caused by any number of things, including a fallen tree or damaged wiring. AFCIs detect arc faults and cut off the circuit before it can overheat. They are estimated to prevent between 50% and 75% of fires that would otherwise occur.
Our electricians can make sure these devices are present where they are needed in your home.
If you need a reliable electrician for electrical outlet repairs, please call 914-762-4342 or complete our online request form.
Recent Articles
Why Electrical Repairs Are Never a DIY Project - DIY projects can be very satisfying. They improve your home while saving you money, they're fun, and they can even teach you a few things. However, there are some things that should always be left to a professional. Electrical repairs are at the top of that list. Electrical systems and wiring are very difficult to work with. The systems are extremely complex, and on top of that, they're incredibly dangerous. It's very important that you … Read More


Practicing Electrical Safety Before, During, & After Storms - When a storm or natural disaster hits, we typically think of the damage wind and rain will do-- flooding, downed trees, missing shingles, and much more. There are also a myriad of electrical problems that can be caused by storms, with effects that last long after the storm passes. Thankfully, your professional electricians at Twinson Electric have a few tips on staying safe before, during, and after a storm and making sure your electrical systems are intact. … … Read More